Riga Planning Region has developed a report on cooperation issues in the transport industry in Latvia aimed at identifying the industry problems and finding solutions for more efficient cooperation by the stakeholders' dialogue
"The transportation corridor should be considered within the international scope, and in order for it to function well, it is important that we eliminate local problems, in particular, in Latvia in our case. In this report we identify several directions for improvement related to both searching for mutual cooperation platforms for experts and institutions, as well as a better mobility planning process and continuity of political decisions. Riga metropolis area plays a very significant role in the transportation industry in Latvia, it serves as a backbone of the internal transport movement with a regional airport, ports and railway network," Rūdolfs Cimdiņš, Head of Riga Planning Region Administration, admits. The report was developed within the framework of the international project Baltic Loop aimed at reducing the travel and cargo transportation time between Riga and important international transportation nodes in Sweden, Finland, Estonia and Russia (St. Petersburg). The report reviews the so called South Loop section in Latvia including Ventspils (further to Sweden, Norway) – Riga – Valmiera (further to Tartu, St. Petersburg).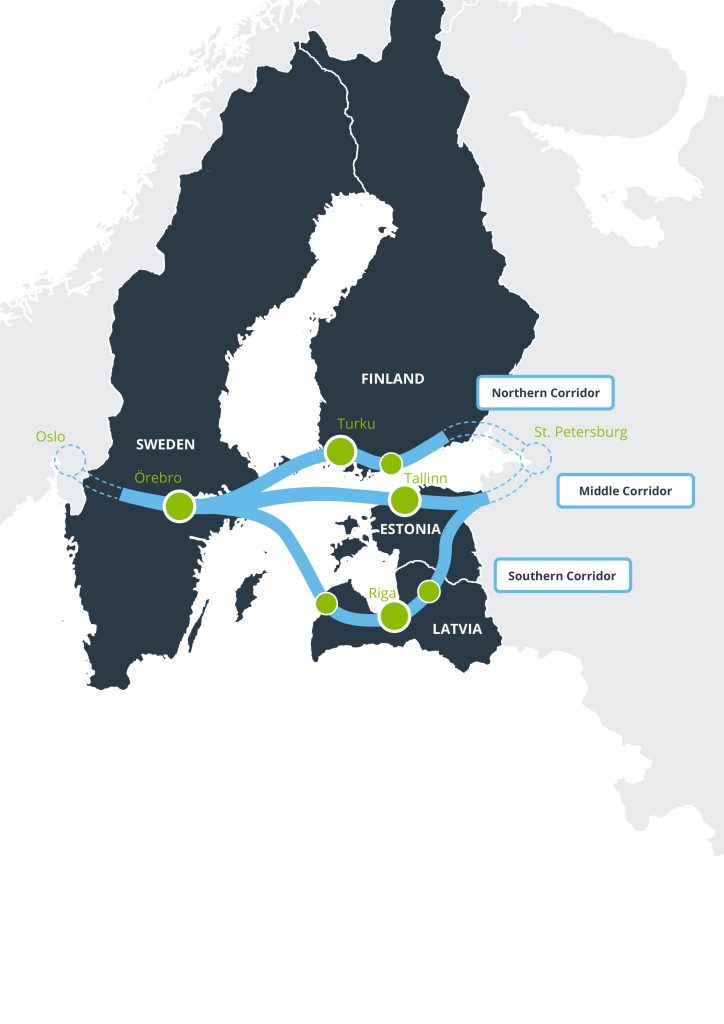 Within the Baltic Loop project the route in the South corridor is not geographically convenient for Latvia, other corridors provide a shorter route and are therefore more convenient from the point of view of spent time and resources. Accordingly, within the context of Latvia the Baltic Loop corridor should be viewed as a support function for cargo and passenger transportation. Riga metropolis area plays an important role within this context. This needs efficient planning of the public transportation, planning of cargo logistics, cooperation with other players in introduction of multimodal solutions and provision of a robust chain of transportation services, improvement of the transportation and mobility planning capacity for experts in Riga city.
The lack of a common long-term vision, instability of political decisions and scattered responsibilities between various institutions within the industry present yet another important aspect hindering development according to the discussions. This results in the current lack of overall vision of the transport dimensions instead of separate views of roads, railway and ports.
From the perspective of technology development the issue of innovation, cooperation of science and research, where cooperation is not systematic, was reviewed. Systematic cooperation by utilising assistance of the city planning and mobility laboratories could analyse and simulate the processes of development and implementation of relevant technologies and help to evaluate opportunities, risks and other aspects of the potential of various technologies to both policy makers and the industry business. More environmentally friendly transportation presents another challenge for Latvia and this needs solutions not only in the area of private passenger cars. Moreover, this aspect is becoming increasingly important among tourists.
As regards development perspectives for the South transport corridor new opportunities will be provided by the "Rail Baltica" project with new regional stations, overall infrastructure and a parallel "backbone" to the existing Latvian railway network. The accessibility of jobs in Riga will improve, as the railway will provide fast and convenient commuting possibilities.
The Report was developed in cooperation with SIA Ardenis based on interviews with the industry stakeholders and work group discussions.
Additional information: Inese Ozoliņa, inese.ozolina@rpr.gov.lv
Photo by Serj Sakharovskiy on Unsplash