BALTIC LOOP focuses on solutions improving and smoothening transport flows of both people and goods in three selected corridors running in the West-East direction; (Northern, Middle and Southern) within the Central Baltic Region, namely Örebro-Turku/Tallinn/Riga – St. Petersburg.

The Project seeks to minimize the impact and/or number of different traffic hindrances or bottlenecks.
The overall aim is to minimize travelling and cargo time in the corridors, and reduce CO2 emissions.

Developing traffic corridors with shortened travel and transport times will make the corridors more attractive to new business and innovations.Baltic Loop is a Project under the Interreg Central Baltic Programme running from April 2019 until June 2021. It includes 7 partners from 4 countries: Finland, Estonia, Latvia, Sweden. Baltic Loop has a budget of 1,98 Million Euro.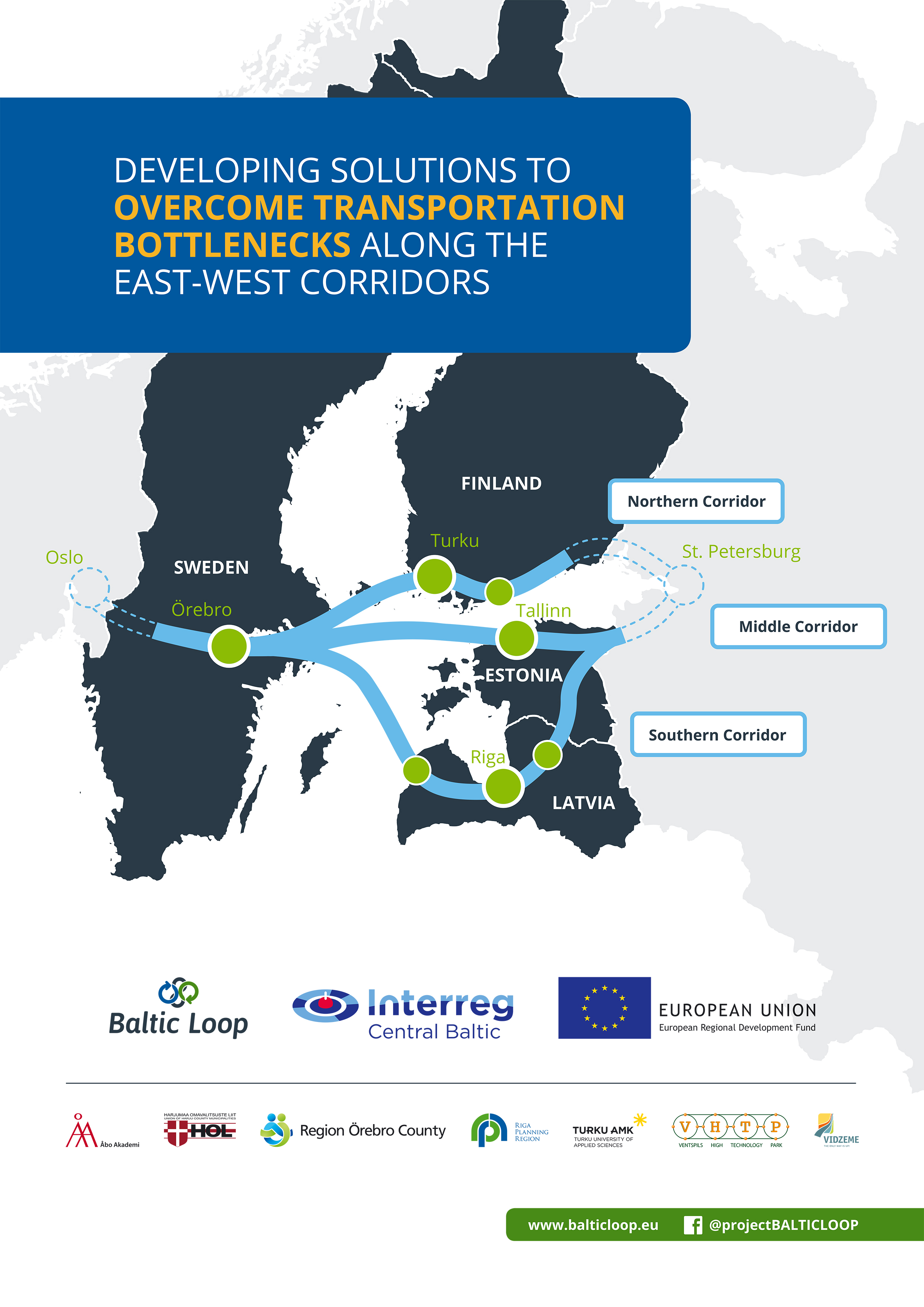 local and international conferences
international stakeholder meetings / workshops/ seminars
local stakeholder meetings
Non-technical solutions for cross-border corridors
Reducing the travel time along the corridors without implementing new technical soultions (i.a. route development and schedule optimization). 
Bottle-necks, ineffeciencies and challenges along the current good and passenger flows will be identified to come up with proposals how to improve and optimize these flows.
Business models for smart and sustainable sea logistics and port operations
It is planned to improve the efficiency of the short sea dry bulk cargo shipping by analysis of cargo flows and developing and piloting an Electronic freight Marketplace, as well as drawing up and delivering a port infrastructure investment plan. To achieve the results, it is planned also to introduce and implement replicable business models for small ports as hubs for hinterland cargo. 
Technical solutions along the corridors
It is intended to identify and target the challenges related to integration of different transport modes to reduce time in transportation of cargo, and reduce the CO2 emissions as well as challenges related to transport corridors within the Central Baltic region.
Technical solutions will be the focus and it is planned to optimize terminal locations by using and analysing geographical and open data storages. This is important due to the dact that bottlenecks are linked with the terminals poorly located. New ideas and management routines inside terminals will be suggested to create future cargo transportation.
Dialogue between different transportation actors
During the project it is planned to initiate a purposeful discussion and find a sustainable form of cooperation between different stakeholders on East-West corridor. Main aim is to promote better public sector dialogue with intermodal logistics, passenger transport stakeholders and other interested parties. It is supposed to elaborate guidelines and pattern for better cooperation with authorities related to transportation goods and passengers.
1 983 434,75 €
 in budget to brake the bottlenecks along the East-West transport corridors
2 years to implement April 2019- June 2021
BALTIC LOOP
Improving transport flows of people and goods in three selected corridors of Central Baltic region.
Contact us