Bottlenecks in the northern transport corridor (E-18; form Turku/Naantali to Vaalimaa, Russian border) have been identified through surveys, workshops and interviews. The purpose was to observe the obstacles and nodes of the transport and to find out what time it takes in the transport corridors of the Baltic Loop project. Unfortunately, Covid19 messed up the plans and observation will continue in the autumn 2020 .
Field survey started with pilot route to observe (see video) the old route from the port of Turku to Paimio (Satama-Tukholmankatu-Ratapihankatu-highway 1-Paimio). This route is forbidden to heavy trucks by the Turku City Council order. Anyway, the idea was to test the research methods and at the same time compare the "old route" with the current situation in which the heavy traffic from Turku port is forced to use Turku Ring Road.
Preliminary results of test driving
The result of this preliminary test drive was quite clear; the old route (now forbidden of city council) from/to Turku port can be even 15-20 minutes faster than the new one demonstrated by the test drive. So far, the results are only tentative. It will need some more testing. It can be assumed that in capital areas (Ring Road III) where numerous terminals are located similar delays originated from compulsory route choice set by civil servants will exist. Our coming test driving throughout the road corridors will reveal the hindrances.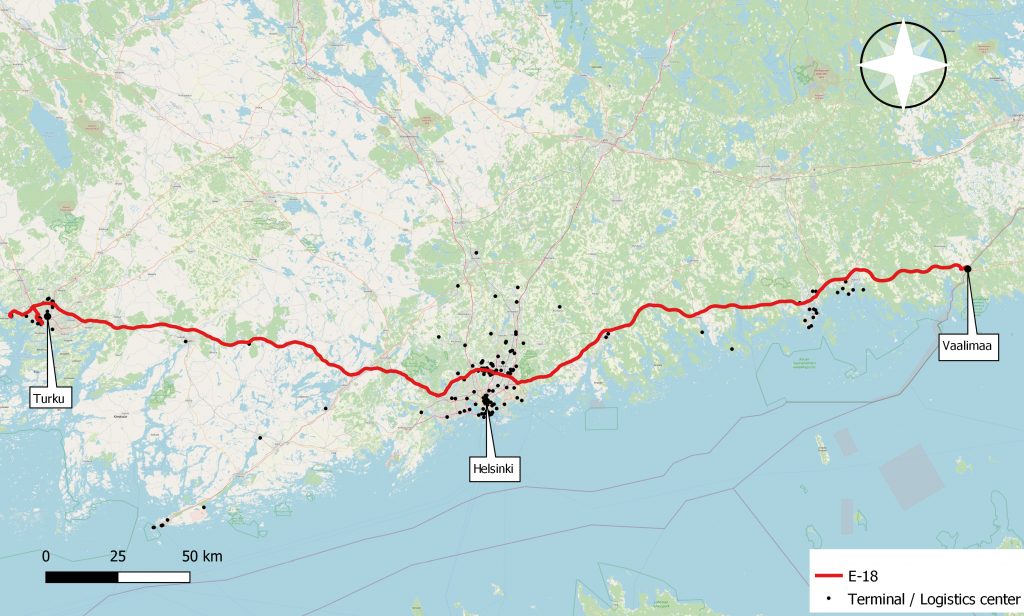 Baltic Loop field surveys and observations along the gateways
The implementers of the field survey are the Bachelor students of Turku University of Applied Sciences and the students of the Turku Vocational Institute in the field of transport. The aim is to verify the bottlenecks along the identified by surveys, workshops and interviews. The route was driven with a loaded semi-trailer driven by a driver student and a graph and observations documented by an engineering student. In addition to the description, information on the speed of transport was collected with GPS equipment that recorded both location and time. By analyzing the data, it is possible to present suggestions to the street planners and operators to streamline traffic.
Later in the autumn, observations will be made on the Naantali-Örebro, Naantali-Russian border, Tallinn-Riga and Riga-Ventspils routes as well (Middle and South gatewys) . In Finland and Sweden, freight traffic is studied, and in the Baltic countries, passenger traffic on both rail and road is studied too.
Results of field work
By combining data form 1) field surveys, 2) questionnaire and 3) stakeholder interviews and meetings (ports, civil servants, truck companies etc,) we can collect and analyze the most important hindrances and bottlenecks and finally present development suggestions.
Photo by Quintin Gellar from Pexels