The project BALTIC LOOP seeks to minimize the impact and number of different traffic hindrances or bottlenecks in three selected transport corridors running in the West-East direction within the Central Baltic Region, namely Örebro -Turku/Tallinn/Riga -St. Petersburg. The overall aim is to minimize travelling and cargo transport times in the corridors, and reduce CO2 emissions.
For Åbo Akademi University and Finland much of the optimisation input focuses on finding business models that improve the efficiency of shipping and ports.
The Baltic Sea region forms a financially, politically and sociologically integrated, stable area. The population in the region amounts to approximately 100 million, but the geography of Europe's north-eastern corner disperses its inhabitants across a large area, characterised by long transport distances. The economies in the region are growing, which entails increased traffic volumes, and this, in turn, necessitates flexibility and new approaches in the planning and development processes of transport systems and regulations. Thanks to increased environmental awareness and EU directives, greener solutions will be implemented when planning for future smooth transport networks at local, regional, and national levels.
According to the researchers in the Baltic Loop project, coordinated by Turku University of Applied Sciences, an advanced, well-functioning transport network is necessary for guaranteeing continued well-being, growth, and development in the region.
The Baltic Loop project focuses on improving the transport flows of both people and goods in three selected corridors running in a west-east direction.
"It's about long-term planning and development of the transport systems and infrastructure in the transport corridors. One part aims at identifying existing bottlenecks and studying future transport needs, for both people and goods. Another part is to work on accessibility and improved connections between transport nodes. Yet another additional aspect is to consider balanced and co-ordinated land use when planning housing and traffic infrastructure," says Irina Wahlström, project manager for Baltic Loop at Åbo Akademi University, one of the project's seven partners.
The starting
point for the three horizontal corridors is Örebro in Sweden.
• The northern
corridor: Örebro – Turku (Finland) – St. Petersburg (Russia).
• The middle
corridor: Örebro – Tallinn (Estonia) – St. Petersburg.
• The southern
corridor: Örebro – Riga (Latvia) – St. Petersburg.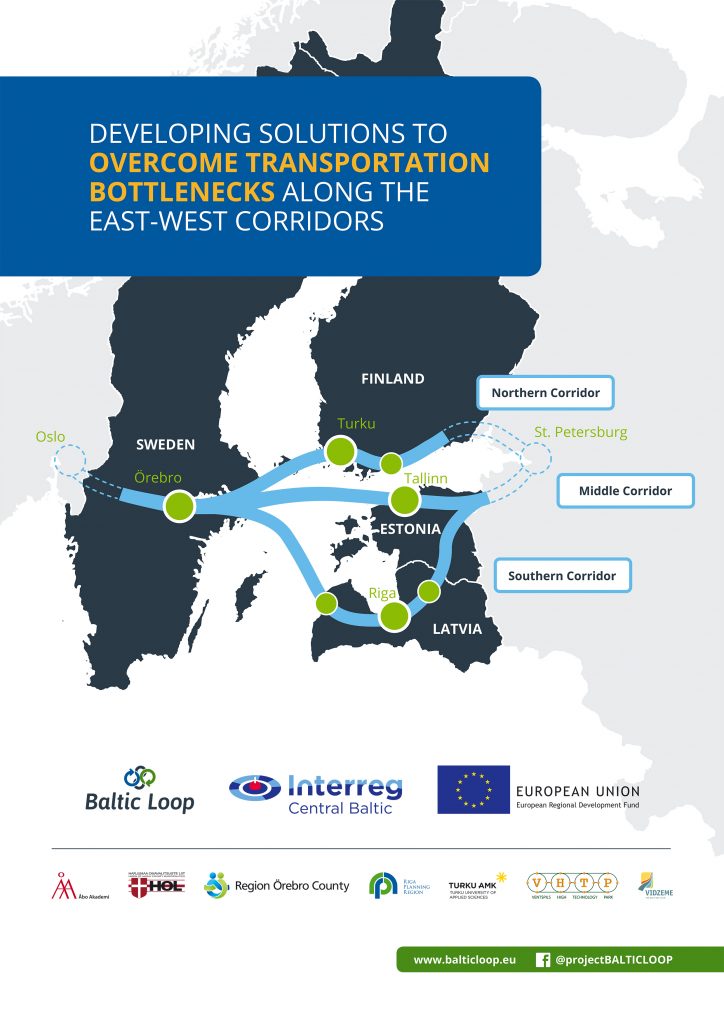 Åbo Akademi University is represented in the Baltic Loop by the Laboratory of Industrial Management. The Baltic Loop seeks to present alternative solutions for minimising the impact and the number of obstacles in traffic flows. This would minimise traveling and transport times and reduce CO2 emissions considerably. The basic idea is that smooth corridors with shortened transport times would have a positive effect on the establishment of new enterprises and the creation of innovations along the corridors.
Åbo Akademi is mainly focusing on alternative business solutions and models for smart and sustainable shipping logistics and port operations. Shipping and ports form central links in the logistics and transport chains, and function as important transport nodes in the west-east corridors.
"Sea  transportation is, in essence, both international and connecting, but inefficient by nature. Entrenched mindsets and lack of communication, among other things, lead to ineffective capacity utilisation and poor co-ordination of shipments. I had to develop an understanding of how transport flows in Sweden look and how they will look in the future, with an emphasis on the Örebro and Stockholm axis.  And, I also looked at how these land-based flows are forwarded through the ports on Sweden's east coast to other regions and countries in the project. The heavily populated and economically important Stockholm-Mälar region is expected to increase by 1.4 million people and 700,000 jobs by the year 2050," says Wahlström.
The appearance of bottlenecks may depend on a variety of factors, such as inadequate planning and communication on land use between actors concerned. Lack of capacity and  maintenance,  can result in traffic jams, delays, and accidents within all forms of transport.
"In order to overcome, for example, problems with capacity, we have recently seen a move toward larger transportation units, equipage and vessels -in other words larger volumes of goods are being transported more energy- efficiently over longer distances, thus resulting in a lower environmental impact. But, this essentially means that other parts of the infrastructure must adapt to this trend, such as by increasing the capacity of the road network, dredging deeper fairways or extending the length of berths in ports" says Wahlström.
Örebro is a city with 150,000 inhabitants. It is located on the western shore of Lake Hjälmaren. To the east is Lake Mälaren and the city of Stockholm is located on its eastern shore. The European route E20 connects Örebro with Gothenburg in southwestern Sweden and the E18 with Oslo in Norway. Örebro was chosen as the starting point for the Baltic Loop corridors due to its central location with regard to the east-west transport flows across the region, and the Scandinavian-Mediterranean TEN-T core network corridor stretching through Sweden. However, the region today is only a partially interconnected residential, education and labour market region, which is why the planning of a functional transportation system is important, even from a cross-border perspective. The region's rapid growth in population is putting a significant amount of strain on the transportation system, which cannot currently keep up with the increased demand.
"In Sweden, the transport system is planned for the long term – a 12-year plan is used. Generally speaking, they take a longer view than we do in Finland. The latest national plan for the transport system in Sweden will run until 2029 and it presents specified measures, priorities and investments in the transportation infrastructure. The state planning framework has a budget of 622.5 billion Swedish crowns and focuses primarily on the development of railway capacity, shipping and roadway infrastructure. A large number of actors, including at the regional level, are involved during the planning process before the plan for the transportation system is finalised. I'm impressed by Sweden. They have a very good internal dialogue," says Wahlström.
"In Finland, we have so far not had the same long-term perspective in traffic planning. This can be seen in, for instance, the traffic to and from the West Harbour in Helsinki. But fortunately, Finland is following Sweden's lead in this case and has started preparing a long-term transport system plan, which includes all  transport modes and will be the basis for the future development of Finland's transport network and services in the period 2021–2032. In Finland, we haven't so far taken the same kind of long-term view when it comes to transport planning. This is readily apparent in, for example, how traffic arriving at and departing from the West Harbour in Helsinki has been set up. Fortunately, Finland is also following Sweden's lead in this regard, with Finland launching preparations for a long-term transportation system plan, which encompasses all modes of transportation and provides the basis for Finland's transportation network and services from 2021 to 2032".
Trans-European transport networks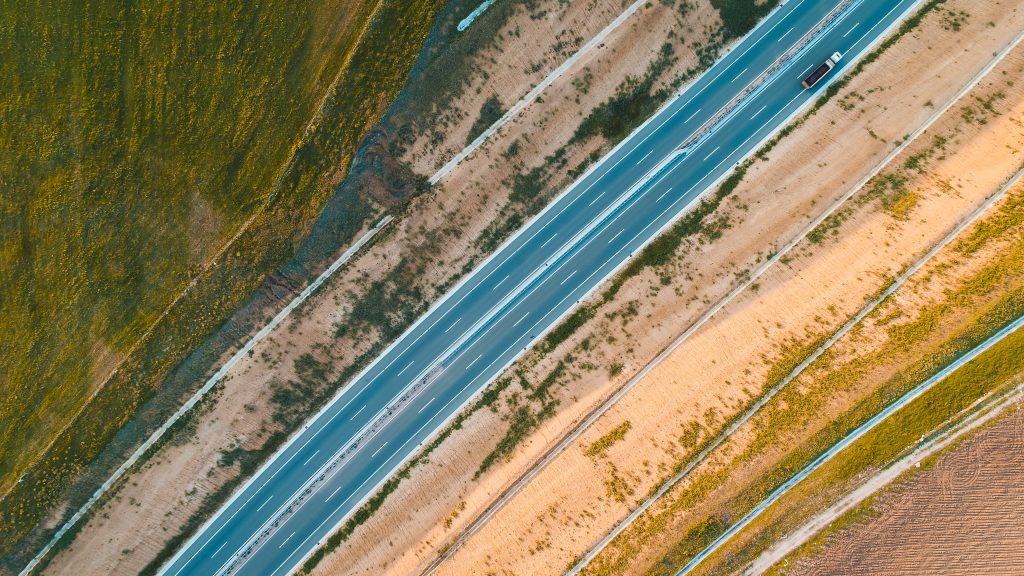 Sweden and Finland are traversed by the Scandinavian-Mediterranean TEN-T core network corridor. TEN-T is short for Trans-European Transport Network, which is a European mega project, initiated in the 1980s aiming at maximising the logistical seamlessness of goods and passenger transports through Europe. All in all, nine Core Network Corridors pass through Europe.
"The horizontal corridors are not as well-developed as those in the north-south direction. But, the north-south corridors aren't entirely ready, either. Central Europe, is in general, a region plagued by capacity problems which take the form of traffic congestions and traffic jams. A cross-border tunnel is currently being dug in the Alpine Region, and the rail and road transport capacity between Germany and Denmark will also be expanded," says Wahlström.
"A consequence of this often is that, when capacity is increased, the traffic volumes will likewise increase. But, in most cases, traffic runs more smoothly when there is more capacity."
Climate issues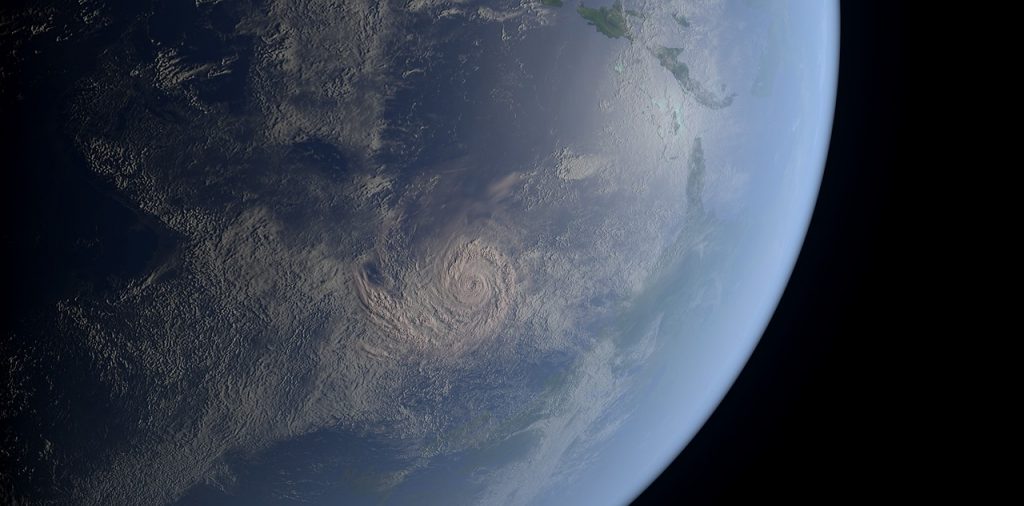 Both at the global and  EU level, climate issues have become a central concern for operations, and this also pertains to the shipping sector. Ports and sea logistics are extremely important for Finland; 90 percent of all goods are imported and exported by sea.
"In order for us to be competitive, we must be logistically efficient. As to shipping to and from Finland, there is often an imbalance between import and export transports due to exclusive confidential transport agreements between industrial cargo providers and transporters, or because of a failure to find a suitable return shipments. This results in empty transports and causes unnecessary CO2 emissions."
The situation could be improved by better co-ordination of freight flows and enhanced information exchange and transparency between various actors and authorities concerned.
As things stand now, different parts of the transport and supply chains do not communicate with each other optimally. Many ports lack a slot system that would allow an advance booking of the port call and associated loading and unloading procedures. Consequently, vessels cannot optimise their speed to ensure just-in-time port arrivals or coordinate with the ports for timely port services, but rather rush during the voyage because of the first come, first served allocation principle many ports apply. Many times this leads to a situation where queues are formed and vessels wait up to several days outside the port idle, waiting for the permission to berth.
"However, things are admittedly progressing within shipping as well, but improvements in openness and coordination are still needed."
Another development that will lead to changes is the requirements for lower emissions and the optimisation of ship energy efficiency. At present, shipping produces approximately 3% of the world's carbon dioxide emissions. However, it must be acknowledged that shipping is an energy-efficient way of transporting goods over long distances.
"We should prepare ourselves for considerable growth in transport volumes. This is due to, for example, increased trade, digital shopping channels, changed consumer behavior, alternative door-to-door and last mile deliveries. This is something we see particularly in urban areas.  The trend toward smaller order sizes and more frequent deliveries leads to an increased need of accessibility and flexibility in the transport system."
"What we'll have to find is smarter ways of organizing and arranging these traffic and goods flows, that is, we must find more energy efficient and ecological ways of setting this up."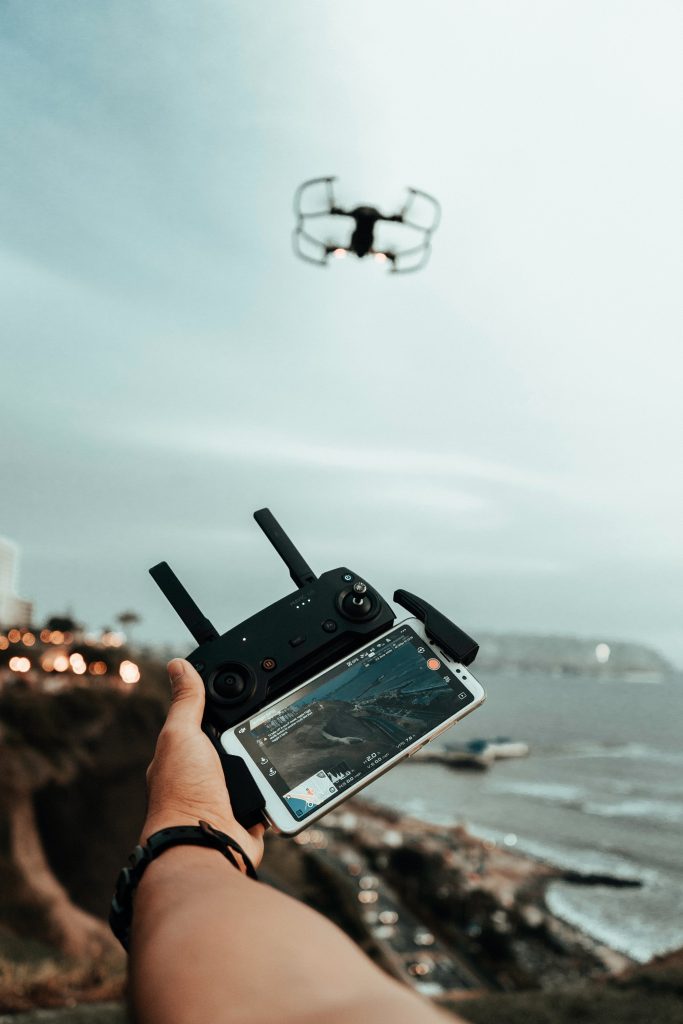 The transport systems are being digitalised, automatised and electrified at an increasing pace, which may provide instruments and solutions for reaching climate targets. These smart transport systems, where vehicles, vessels, goods and the infrastructure communicate with each other, makes it possible to achieve better energy efficiency within shipping, by means of route optimisation, slower cruising speed and optimisation of port  calls, among other things. Platooning is a solution where multiple trucks form a 'train-like' convoy of unmanned vehicles, which communicate with each other through a manned 'lead' truck. The development of autonomous vehicles and vessels and the attendant regulatory framework is also part of this equation.
"At the EU level, the ambition is to continually reduce road transports towards other more environmentally friendly modes of transport including railway and sea transportation. This particularly pertains to industrial goods and large volumes. But when it comes to consumer goods, these are bound to continue rolling mostly on the roads."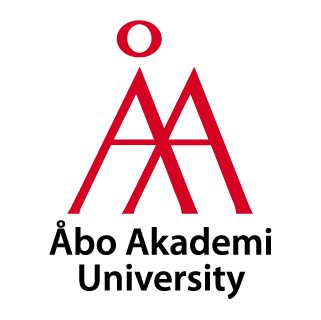 Within the Baltic Loop project, the Laboratory of Industrial Management at Åbo Akademi University is exploring smart and sustainable business models for shipping and port operations.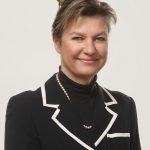 Irina Wahlström has been a project manager at the Laboratory of Industrial Management at Åbo   Akademi University since 2017. She has completed a Master's degree in biochemistry followed by a Master of Business Administration in shipping in London. She has worked her entire professional career within the shipping sector, in operations, consultancy and project management, both in Finland and abroad.